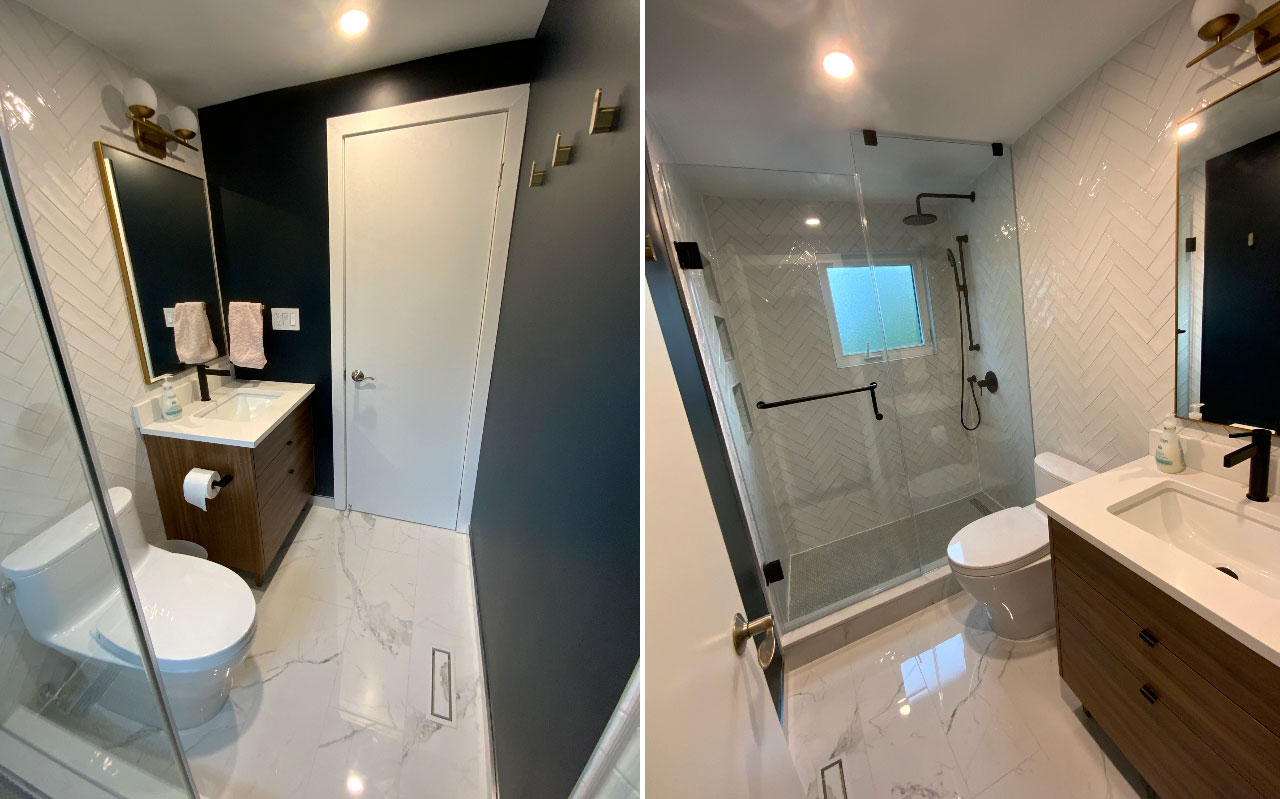 LUPIN BATHROOM Renovation
PROJECT SIZE

48 sq/ft
DURATION

3 weeks
Our Lupin clients were excited to renovate their 1970s bathroom and we were pleased to work with them on this project. We discussed a number of options including stealing some space from a neighbouring bedroom and a subsequent adjustment of layout, however in the end the clients decided that making a big impact within the existing small space was the way to go.

Prior to demolition, we began the project by installing a protective barrier on the floors in the hallway outside the bathroom and on the stairs going down to the main floor. Preexisting plumbing issues, mould on the ceiling, requested installation of a ceiling fan and a bulkhead that made the space seem even smaller meant a full 'gut' with everything being pulled back to the studs. All items removed were disposed of on the client's behalf. For this project, the clients sourced some of their own finishes including tile, plumbing fixtures, vanity and decorative items including the mirror and over-vanity lighting; we were happy to assist where needed.

Before we could begin to put the space back together, additional work was required to level out studs to ensure that walls were perfectly straight to accommodate an intricate tile pattern. As well, to improve on the non-existent ventilation, we installed a fan which required some time spent both in the attic and on the roof. Shower, sink and toilet plumbing was replaced and a new GFCI was installed next to the bathroom sink.

The bathroom was insulated, including the internal walls at the client's request and mold resistant drywall was installed throughout with exception of the new stand-up shower, where we used cement board. Three walls were tiled in a herringbone pattern with a penny round on both the shower floor and within the niches. The shower was finished off with a beautiful linear drain and frameless glass enclosure. The bathroom was completed with the installation of a new door and frame, composite baseboards with metal edge profile on the perimeter and of course, the installation of all new fixtures right down to the towel hooks.

The clients were very pleased with the project which was completed within the promised three-week timeline.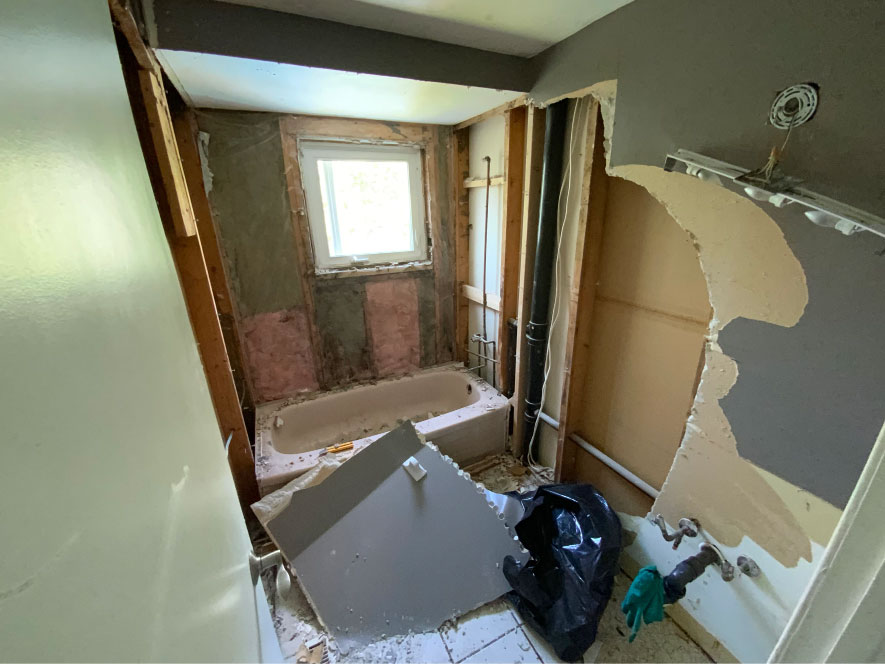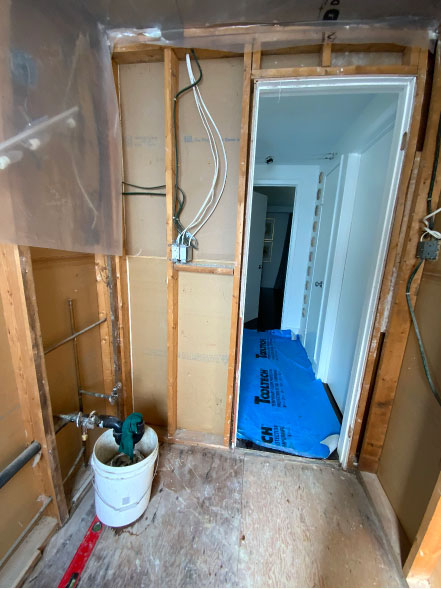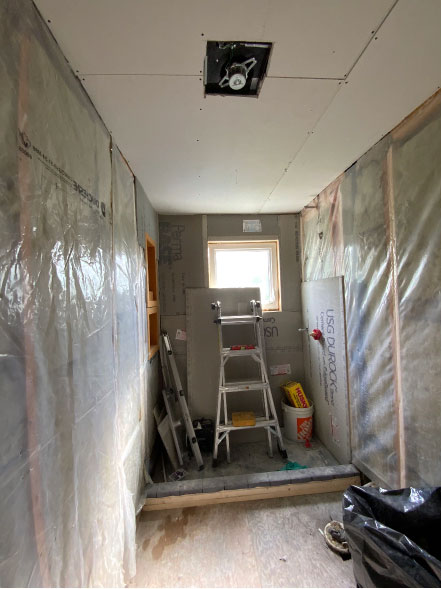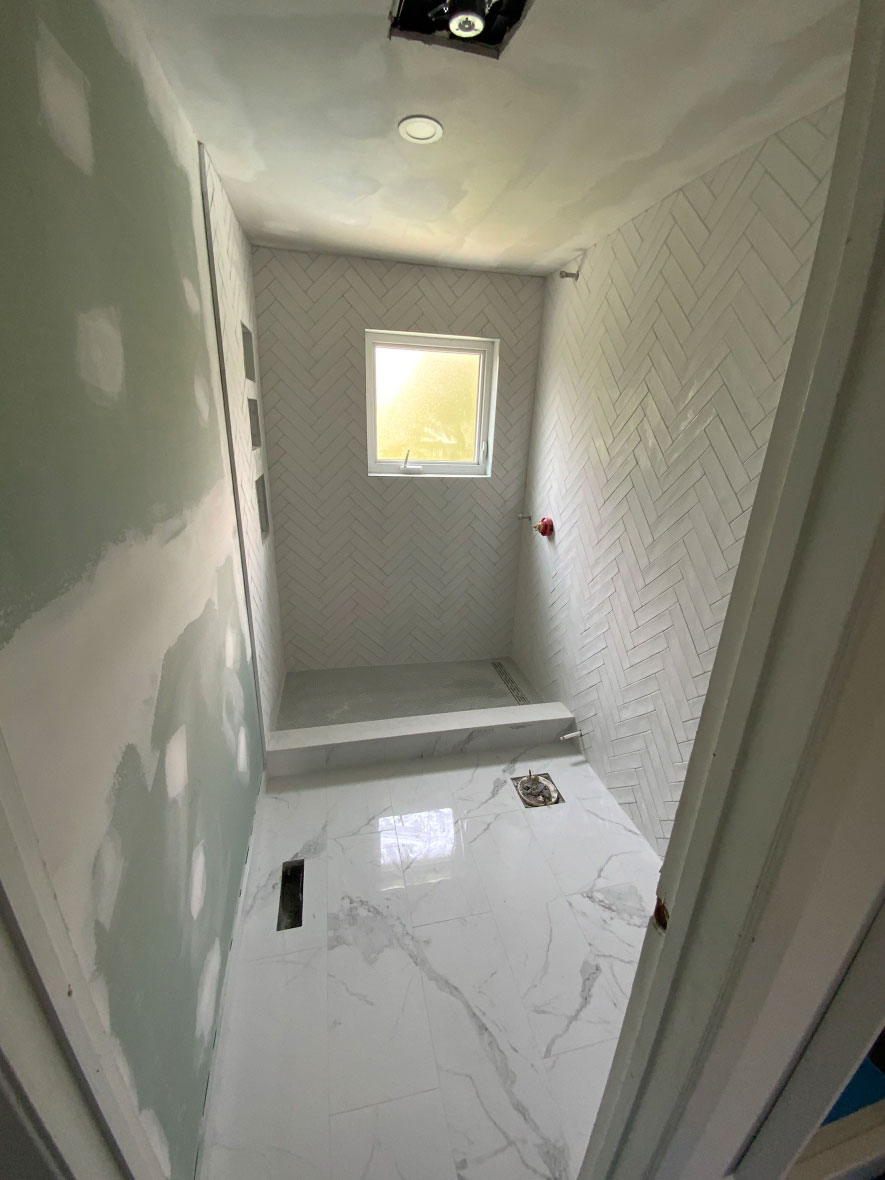 "

We knew from the beginning that working with Hans was the right decision. Starting off with an itemized quote that was easy to understand, we also appreciated their responsiveness and willingness to answer numerous questions and to make suggestions that worked within our budget.

Our bathroom project was so well managed and never stopped, the appropriate tradesperson showed up each day to keep it moving forward. The Tetra team cleaned up every day, which was so important because the renovation was taking place outside of our family bedrooms. Any small issues or questions were immediately addressed.

We couldn't be happier with our new bathroom and would definitely use Hans again!


"