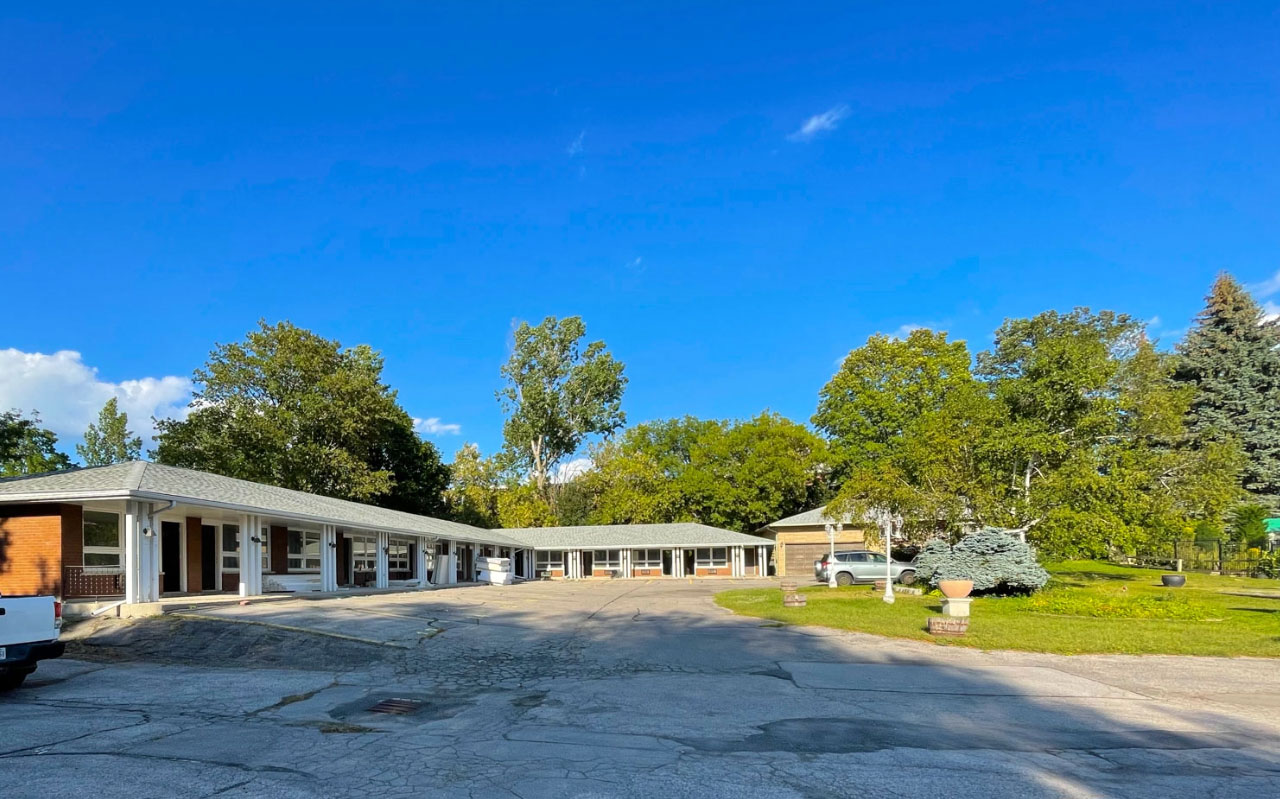 SCOPE

Office Building Meeting room, 4 offices, staff room and reception.


26 Rooms Living space/Bedroom with Closets, Bathroom and Kitchenettes.

11 Bathrooms Full Guts (stand up showers with glass enclosures)

Smart hotel entry system
CANADIANA INN MOTEL Renovation
PROJECT SIZE

9240 sq/ft
DURATION

18 weeks
This project was large in scale and required the organization of a number of teams and moving parts to achieve success. We worked with the Canadiana Motel on a refresh of 26 rooms, 11 bathrooms and a main office building which included a meeting room, four offices, a staff room and reception area.

To stay on budget, the owners were keen to reuse as much as possible of the original structure and finishes, so careful demolition was required.

The scope of work in the main building included the refinishing of hardwood floors, baseboards, door and window trim on the main floor. Existing flooring on the second floor and in basement were removed and replaced with luxury vinyl plank product. Stair rails and pickets were removed, refinished and reinstalled. The smoothing of walls and ceilings, filling of holes and cracks, plastering, taping and sanding and where necessary, new drywall was installed followed by fresh paint throughout. Existing floor tiles in the reception, kitchen and bathroom were professionally cleaned. New pot lights were installed on each floor.

Each of the 26 guest rooms required new luxury vinyl plank flooring, wall repair or replacement drywall, new paint throughout, interior lighting, the installation of closet spaces including framing and drywall and; the supply and installation of a small food prep area which included a cabinet and countertop for small appliances and plumbing to accommodate a sink and faucet. Each room required that the existing deadbolt be replaced with a hotel key card smart system.

Eleven of the 26 guest rooms required a complete bathroom renovation with demolition down to the studs followed by new subfloor, drywall and fresh paint. Each unit was installed with a walk-in shower, new vanity, tile flooring, toilet and exhaust fan.

A much needed exterior refresh included the installation of new lighting, the removal of old screen doors, refinishing and re-caulking of windows and general clean up.